Remember when we sent snail mail? This is what the mail of yesterday looked like.
It took so long to send and receive this mail that the sender put all his hard work and effort into each individual item. Geoffrey Drew Marketing™ combines this personal touch with the look and feel of the new generation of web e-mail.
It seems like nowadays, everyone has access to a computer. Who knows where the e-mails in your inbox can be coming from.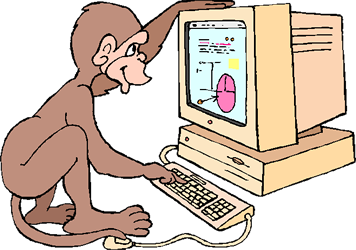 One of the many users of the web.
GDM™ helps differentiate your company's e-mails from the millions of other users of the world wide web. We use some of the most technologically advanced software, but more importantly we avoid all the superfluous fluff and get down to the nitty gritty.
1. Who do you want on your e-mailing list?
This is a crucial step. Do you want to send to all your customers, or perhaps only customers in the past year, or even just customers from Cincinatti?
You tell us what you want to do, and GDM™ will do it. GDM™ can either send a mass marketing blast to all the customers on the e-mailing list, or GDM™ can send out to groups based on certain segments including the Type of Business, City, Country, Zip Code, almost anything. Let GDM™ know whether to send the marketing blast as a mass e-mail, or in chunks based on your criteria.
Send the e-mailing list in any of the following popular formats; .xls, .csv or .txt. The file needs to contain the following column headers: E-Mail Adress, First Name, Last Name, Title, Address1, Address2, Address3, City, State, Country, Zip Code, Phone, and Fax. Click the picture below to see full size.

An example of what the mailing list should look like.
You can download the template here. Make sure to open it with excel. The e-mail address is the only required field, but the more information provided, the better.
GDM™ can also help create the e-mailing list, if one is not already in the formats listed above. In addition, GDM™ can update your list by adding or deleting names from the e-mailing list as per request.
Please note: GDM™ does not engage in the buying or selling of any electronic mailing lists.
2. Select a template from the gallery of designs.
Based on the template selected, send GDM™ unique information from your company to replace the standard text and images on the template. For example, if there are three pictures in the template, send three pictures from your company. Specify which image will replace the corresponding image on the template, as well as which text goes in which area of the template. Pictures can be in any standard format including .gif, .jpg/.jpeg, .bmp, and .png. The pictures you send will not be manipulated, only resized to fit the template, unless stated otherwise. Custom designs are available on request.
3. Choose an e-mail marketing time table.
How often do you want a flyer to be sent, and at what time of day do you want it to be sent? Flyers can be sent as often as you would like, and GDM™ can work with you on all of these options.
Service

Initial Flier

$100

Update to Flier

$25

Monthly Mailings

Sign Up Now Get the First 3 Months FREE!

Frequency

Price

Monthly Distribution

1,001-2,500 Users

2,501-5,000 Users

5,000-10,000 Users

10,000+ Users

$5/month

$15/month

$35/month

$75/month

$95/month

Business Weekly Distribution

$15/month

$25/month

$45/month

$85/month

$105/month

Business Daily Distribution

$25/month

$35/month

$55/month

$95/month

$115/month

Not-for-Profit = Half-Price off Monthly Mailings

Custom plans available on request
Please click HERE to review the details of the agreement.
Start reaching your target market in a matter of days with
Email: information@geoffreydrewmarketing.com
or Call Us at (646) 998-4208.